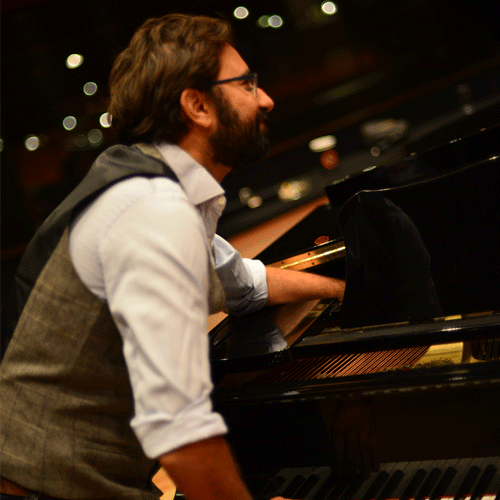 Yann Keerim
Yann Keerim (aka Yannis Kyrimkyridis) is a Greek pianist and composer born in Ioannina, Greece in 1979. Yann has been playing the piano since the age of 4 when he started his studies in classical piano. After moving to Athens at the age of 18, Yann started participating as a pianist in the band of the world class Armenian oud soloist Haig Yazdjian, a collaboration which influenced his music approach and aesthetics and also helped him develop a unique perception of the role of the piano next to Arabic and Eastern instruments such as the oud.
Ever since then Yann has been performing next to artists such as Ara Dinkjian, Eleftheria Arvanitaki, Manos Achalinotopoulos and participating in numerous shows on stage and in concert halls all over the world (Carnegie, Sydney Opera, Odeon of Herodus Atticus, Berliner Philarmonic and many more). In 2013 he recorded for ECM records as the pianist of the Sokratis Sinopoulos Quartet with the album "Eight Winds".
This was followed by another ECM Records release – the album Metamodal in 2019. Both albums were produced by the legendary Manfred Eicher. Yann has also made music for several adverts and films as he has been active on the music library market since 2005.